Since moving to LA one of the things I've started to pay more attention to is how people friendly things are designed. LA is not designed with people in mind specifically when it comes to roads and parking. Roads are congested and you have to zig zag to get to one part of the city from another. Parking is expensive or non existent and the parking lots themselves are tend to be more of an eyesore rather than something that's been structured for beauty or functionality. There's got to be a better way to design parking – this whole tandem parking thing and paying $15 for parking ain't gonna cut it. Granted these issues are probably due to the fact that people moved in and continue to move in so fast that all the city could do is react rather than plan.
But when I took a spur of the moment road trip to Vegas in February, I saw planning and structure in place to move people through the city easily. Granted this is because this city is designed to get all the money out of its visitors that it can, so it pays to have a city that is easy to navigate. Also I was in Vegas on a Tuesday in February rather than at peak times. Parking was hidden off the main strip and covered. It wasn't front and center and an eyesore. It was free. Sidewalks were huge. There were several walk ways crossing over the street to maintain the flow of traffic rather than stopping it for pedestrians. Traffic seemed to flow relatively smoothly for a big city. The streets were clean. The design of Vegas was an interesting contrast to LA and Hollywood.
Speaking of design (like that segue?) one of the design elements I was impressed with in Vegas with was Shake Shack. A couple years ago, I had read about this New York based restaurant that started as a hot dog stand. From what I could see online, I loved the branding and took note when I heard that people waited in lines for hours for the food. I vaguely remember watching a web cam of people in New York City waiting in lines that zigged back and forth. (I'm not sure which is sadder, those people waiting in line or me watching those people waiting in line.)
When I heard that a Shake Shack had opened in Vegas, I knew that was going to be lunch before I left town. (Side note: Shake Shack just announced they're opening a restaurant in West LA in 2016.)
The building itself was really cool. Interesting roof lines that led to a point and tall signage with that iconic green burger on top to help stand out amidst the rest of the neon signage on the strip. I have an affection for lime green so that could be part of the reason why this brand has stood out to me.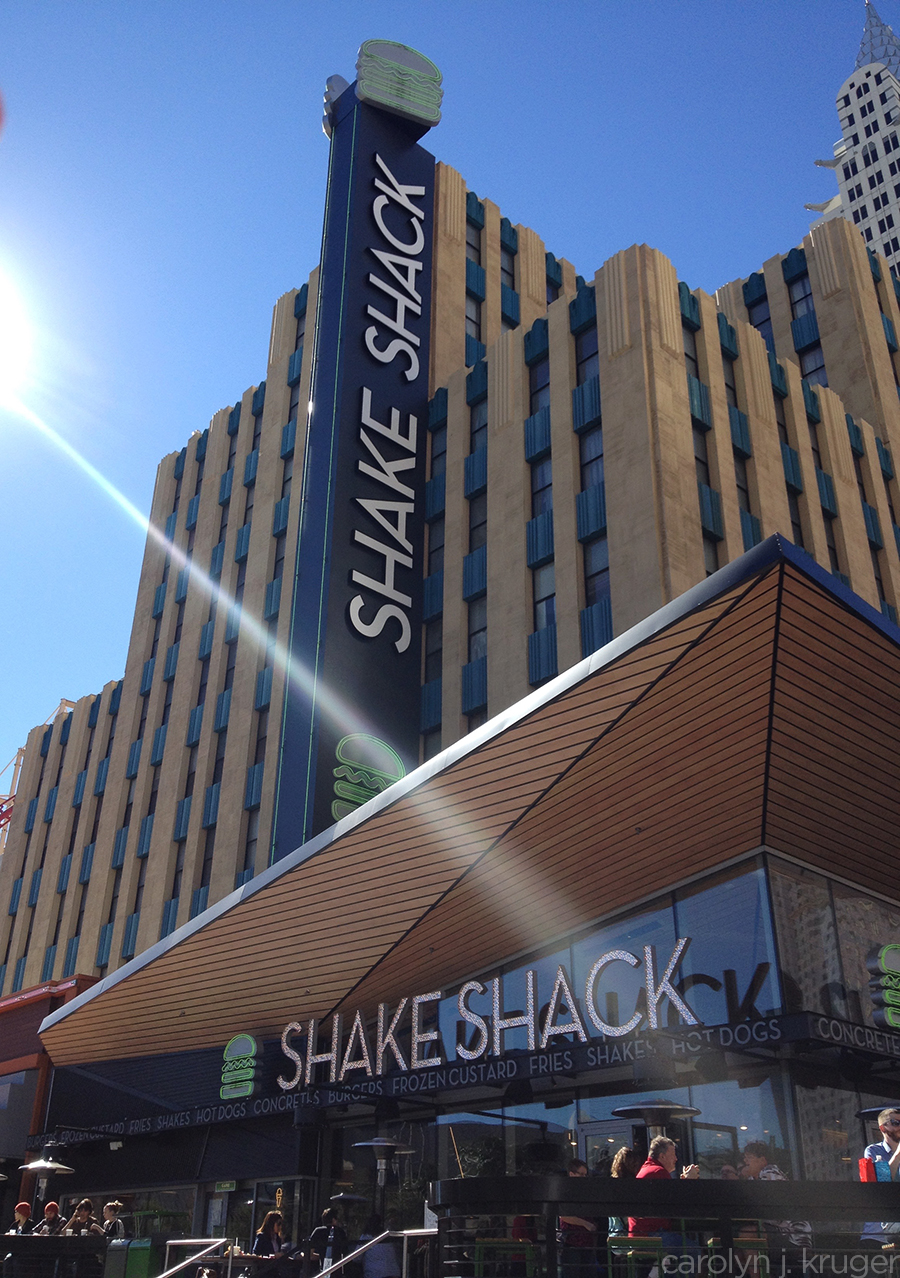 Thankfully there wasn't a line out the door to order. The menu is extensive with hormone free burgers, hotdogs, french fries, onion rings, home made custard concoctions, beer, wine and other fancy drinks.
I ordered a Chicago style hot dog, fries and a custard with chocolate pieces and strawberry. It was good, but I can't say that it was my favorite. My Nebraska roots make me partial to Runza fries and Dairy Queen blizzards. I've had Chicago hot dogs from Portillo's, so I've been spoiled. I'd go back but more for the ambience and attention to detail rather than the food.
The people working there seemed to genuinely enjoy their jobs. The woman taking my order was excited and was bragging about the restaurant. Tells me the leadership takes care of their people and that tells me a lot about the place.
No detail was too small for Shake Shack to pay attention to. I've had the chance to work a bit on a restaurant design project, and I know how many moving pieces and parts go into it and the upfront investment financially. In the long run, it's so worth it, and it shows.
The containers that the food come in have their own design. Hot dogs containers have a hot dog icon, custard has an ice cream cone, fries have a fry icon on it. The hot dog buns are toasted which is my favorite way to eat them. Even the way the ketchup comes out of the dispenser looks like it was thought through.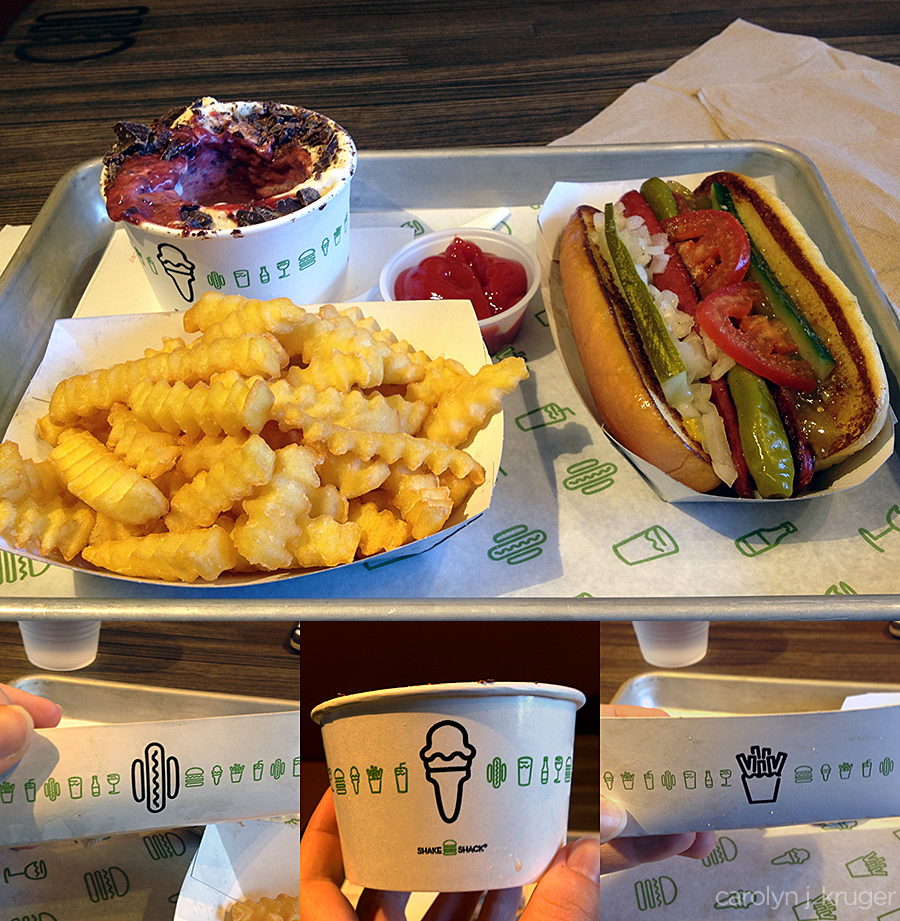 The tables are all burned with the Shake Shack icon and a message detailing where the wood came from. In this case it was from a bowling alley in New York. There was plenty of seating, and the arrangements were staggered and cozy almost intimate. I loved the little tree stump table/stools. They were made from a plastic material rather than wood, but just by the shape of them they tied into the wood panels that filled the rest of the restaurant. The upward angles that marked the front of the building continued inside in various other angles that I really liked.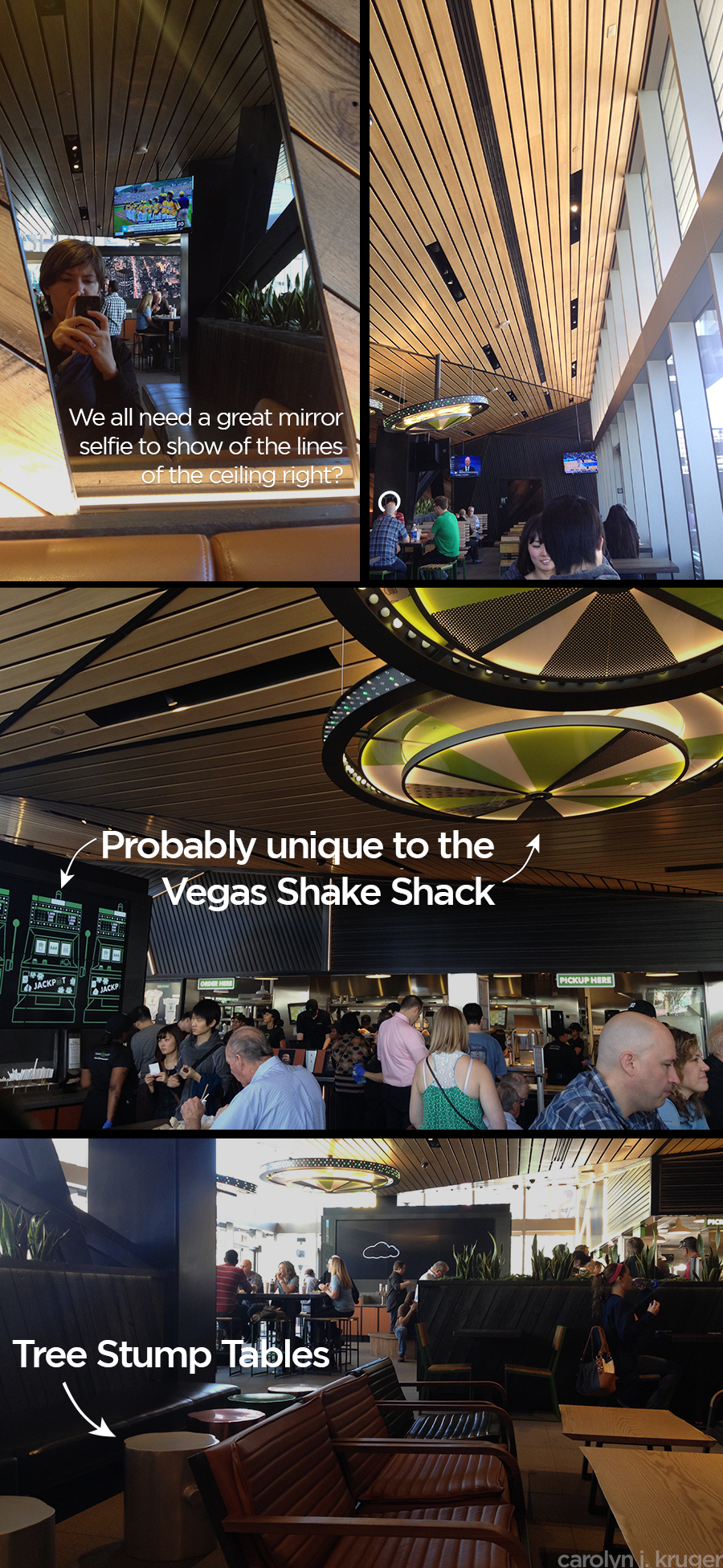 There were other touches that reminded you that you were in Vegas without screaming "Welcome to Vegas!" Lighting on the ceiling reminds you of roulette wheels. They also had this great digital board that displayed different messages using the branding colors and icons. It was just subtle enough to not call attention to itself, but was another element that tied all of the branding together.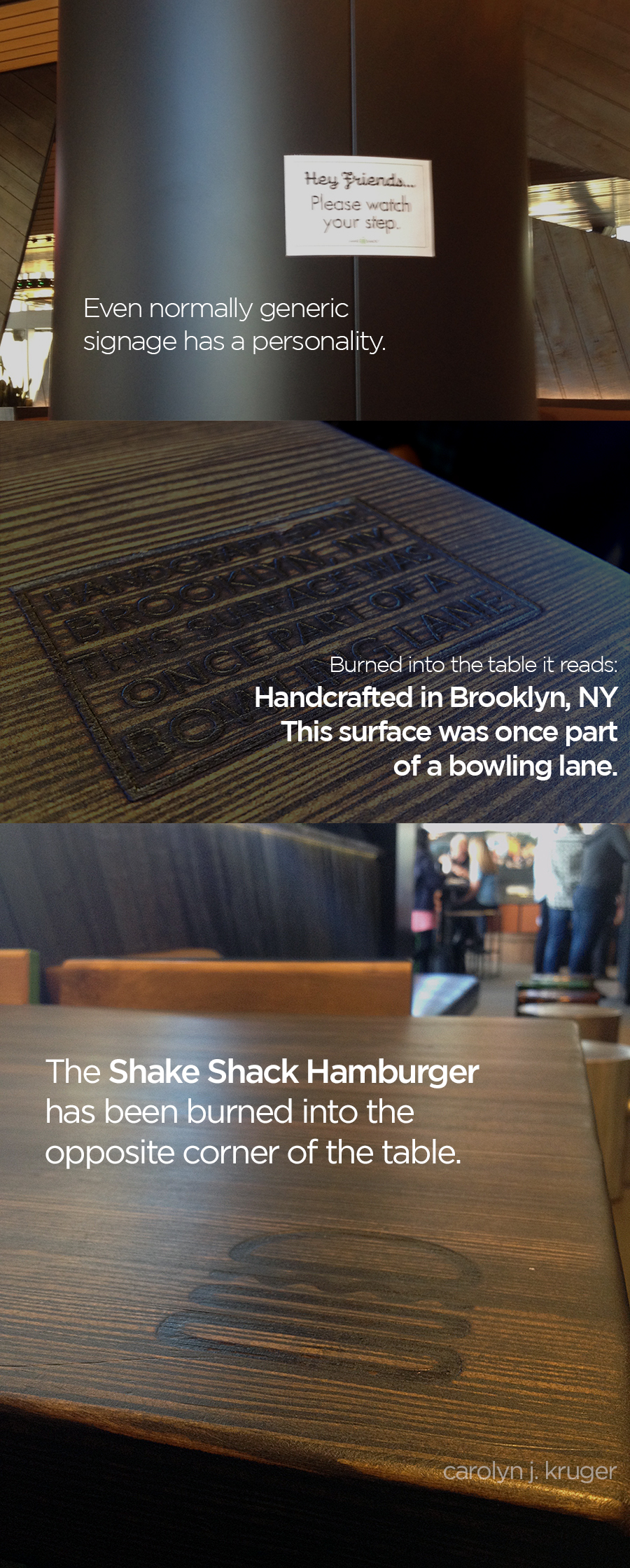 I obviously think highly of what this former hot dog stand turned international restaurant has put together. If even the lowly hot dog can aim high, there's no reason why I shouldn't. (How's that for a conclusion?)